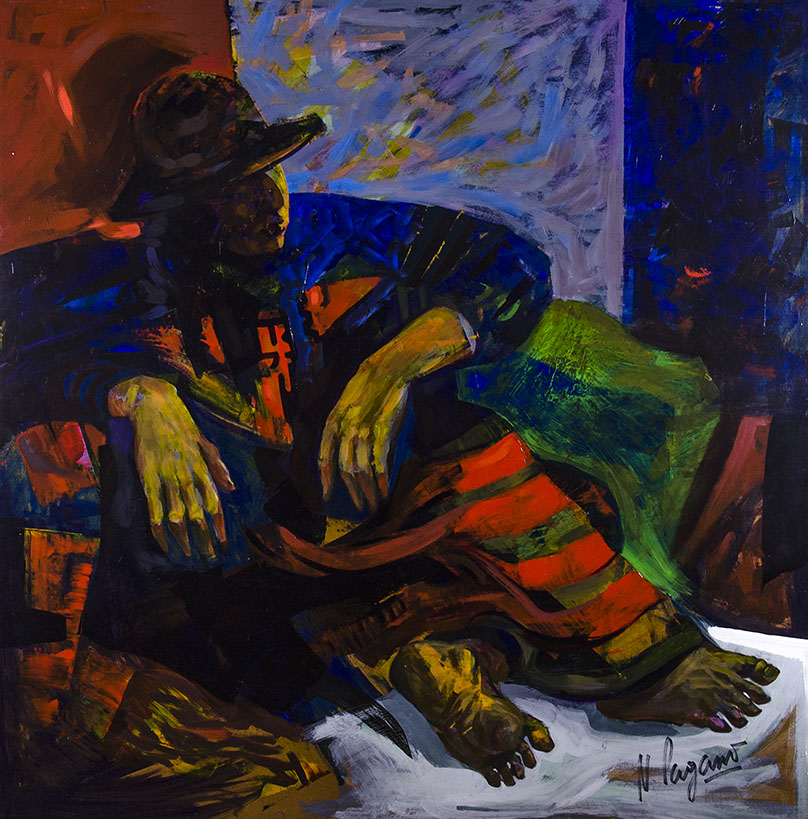 North ... Of the earth.
Acrylic in canvas. Measurements: 120 x 120 cm / 47.25 x 47.25 in. Framed work.

The young coya, dressed and stretched out on Andean textiles, presents in the formal treatment of her arms and feet, the attentive look at the muralist tradition and modern indigenous painting of Latin America. The color mastery of her clothes is complemented by the three planes of color in the background, in counterpoint with the earthy skin of her hands, bare feet, and her face, in the shade of her typical bowler hat. Pagano made study trips in Europe, but he also traveled a lot in our America, as expressed in this work.

Norberto Pagano (Olivos, Province of Buenos Aires, 1940 - 2017) was a draftsman, painter and muralist; teacher in the schools of Fine Arts Prilidiano Pueyrredón and Ernesto de la Cárcova. He made numerous exhibitions in the country and abroad. He participated regularly in municipal, provincial and national salons in which he obtained various distinctions; among them, the Pío Collivadino Prize, Special Distinction of the Jury of the National Hall. The Fine Arts Museums of Luján, Resistencia, Corrientes and UCA (La Plata), among others, have his works.
---
Are you interested in selling some works?
Send us an email briefly indicating
which works you intend to put on sale, and we will respond. click here