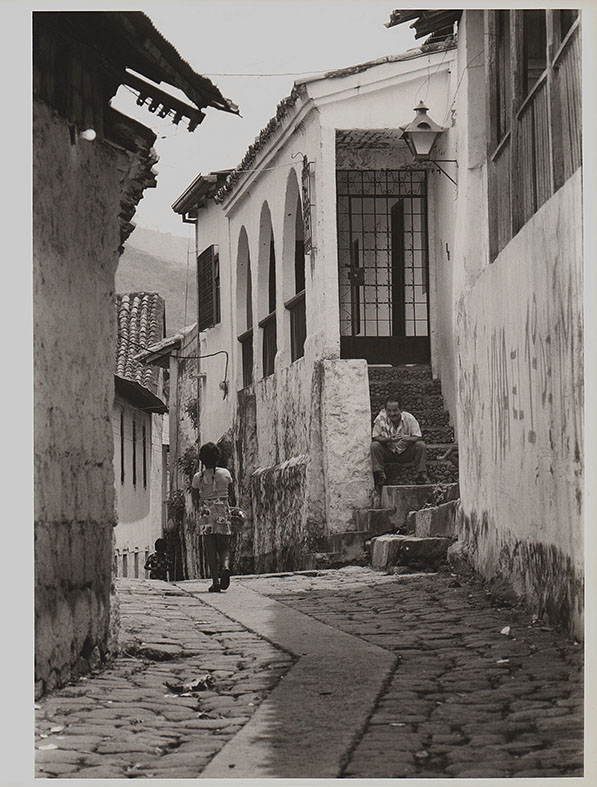 A street in the town of Honda. Colombia. Circa 1980.
Gelatin silver print -25.3 x 19.4 cm. / 9.96 x 7.63 in.- with white margins, on plain glossy paper. Behind, ink manuscript, indication of authorship and location of the image. It is exhibited framed.
The complex layout of the town of Honda, located in the mountains of the municipality of Tolima, captivated Castañeda, a photographer specializing in architectural registers. The camera focuses on an alley in the midday hours, with a young laundress carrying a basket of clothes.
"A separate case is the images of Antonio Castañeda, one of the photographers with the most extensive knowledge of photographic history and techniques, who has ventured into various modalities of this medium and has made interior and exterior architecture photography rural and urban, colonial, republican and modern, a specialty in which it has obtained justified popularity ". This is how Eduardo Serrano, the most important historian of Colombian photography, ex director of the National Museum of Fine Arts of Bogotá, defines it with great justice, in his well-known book "History of Photography in Colombia. 1950 - 2000".
Antonio Castañeda (Bogotá, 1947) worked as a restaurateur with training at the Rochester Institute of Technology and has published numerous photography books in Colombia. Several of them are dedicated to the architecture of small towns and intermediate cities with their most characteristic urban landscapes.
| | |
| --- | --- |
| AUTHOR | CASTAÑEDA, ANTONIO |
| ITEM | 95 |
| PRICE | U$S 240 |
---
Are you interested in selling some works?
Send us an email briefly indicating
which works you intend to put on sale, and we will respond. click here
Subscribe to our newsletter to be updated.