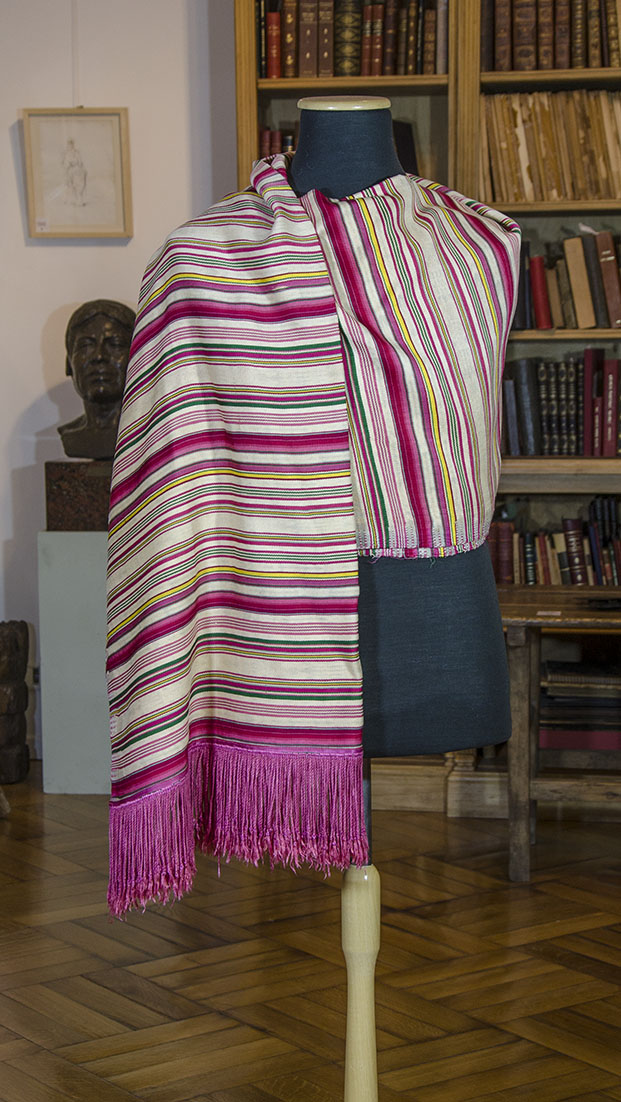 Mayan shawl.
Mayan shawl. Quiche ethnic group. Totonicapán. Guatemala. First half of the 20th century.
Woven in cotton and silk yarn, this shawl -called perraje according to Mayan tradition- was made on a Creole pedal loom, an adaptation of the Spanish looms introduced to Spanish America by missionaries of the Society of Jesus in the 16th century. . In its preparation, alternate streets of cotton yarn that show figures -currently barely perceptible due to the passage of time- obtained with the Ikat technique, consisting of tying the areas of yarn that are to be preserved, before immersing it in the bath. dye, so that when untying the aforementioned moorings the drawing is visible. In the case of jasper - such is the name of ikat in the Mayan culture - the particularity lies in the fact that the horizontal streets are woven with an excess to "accommodate" the drawing and that surplus is gathered in small bundles that are inserted into the fabric. This technique, unique in the textile universe, is called "graft" in the jargon of Totonicapán artisans and is a true mark of origin of these garments; a sign of excellence even more beautiful with the polychrome silk lanes that frame it. And in tune with her art, the silk thread fringes -twisted and knotted one by one- give this piece a frame of elegant movement that enhanced the gait of its owner with its sway. Measures. Length 175 cm Width 84 cm. Fringes: 10 cm.
The silk used in these garments originates from the area, whose production is documented as prior to the 20th century, as stated by Ruth Corcuera: "Among the data that I was able to collect in the Bulletin des Soies et de Soieries of the Lyon Museum, I came across a striking article published in 1902, which talks about the shipment made by Guatemala for the 1900 exhibition of a silk sampler. Said silk corresponds to a butterfly that is cited in the article as Ataco Cintia, whose common name would be Chicop. The sites mentioned as originating from this silk are especially located in the surroundings of Quetzaltenango." [1]. Precisely, the artisans of Totonicapán traveled to the Quetzaltenango market, traveling twenty-five kilometers of mountain trails, to obtain the silk with which they wove these beautiful "perrajes".
Note:
1. Ruth Corcuera, Women of Silk and Earth, Edit. Argentina, Buenos Aires, 2006, p. 117
---
Are you interested in selling some works?
Send us an email briefly indicating
which works you intend to put on sale, and we will respond. click here