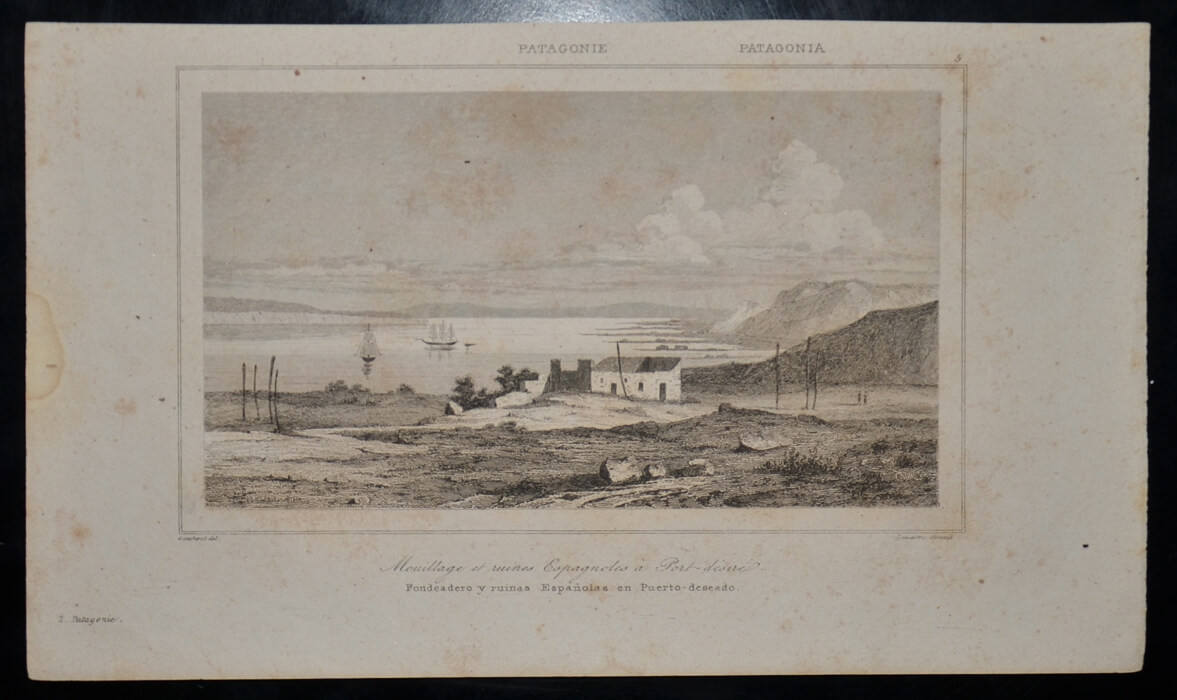 PATAGONIA
Mouillage et ruines Espagnoles à Port-désiré // Fondeadero y ruinas Españolas en Puerto-deseado. // Patagonie. Gaucherol del. // Lemaitre direzit.
Grabado. Medidas: 100 x 150 mm. Buen ejemplar.
Publicado en "Voyage pittoresque en Californie et au Chili; îles Malouines; Terres Magellaniques; Détroit de Magellan; Terre-du-Feu; Terre-des-États; Cap-Horn", de Charles de Lambertie, Paris, 1853, lámina quinta del segundo capítulo, "Patagonia".
La historia de Puerto Deseado se remonta al viaje de Magallanes, que descubre la ría y recala tomando contacto con los Tehuelches allá por 1520, aunque su nombre lo dicta Cavendish cuando en 1586 le rindió homenaje a la embarcación en la que avanzaba, Desiré. Desde entonces hubo varios intentos de ocupación española permanente, pero lo cierto es que en 1807 el ataque de una nave inglesa azotó el puerto, que quedó abandonado hasta que en 1884 el gobierno argentino asentó la colonia que dio origen a la actual población de Puerto Deseado. La vista que ofrecemos nos da una panorámica del antiguo asentamiento.
| | |
| --- | --- |
| AUTHOR | LAMBERTIE, CHARLES DE |
| PRICE | U$S 130 |
---
Are you interested in selling some works?
Send us an email briefly indicating
which works you intend to put on sale, and we will respond. click here
Subscribe to our newsletter to be updated.